Blog Article: Volunteering in Cambodia
This January Project Trust were excited to send Volunteers back to Cambodia for the first time since the pandemic. Below Anna and Skye tell us what their first 5 months living and volunteering in Phnom Penh, Cambodia have been like.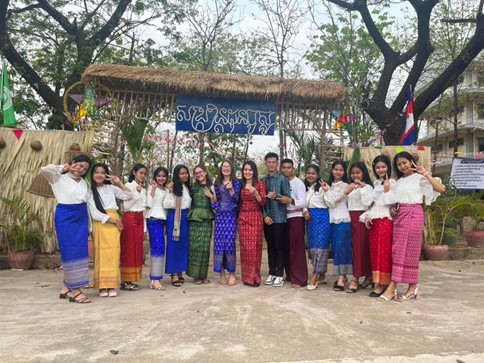 Skye and I embarked on our Project Trust journey in January, volunteering at Don Bosco Technical School Phnom Penh where we teach English, assist with extra-curricular activities, and help look after the boarder girls. We have currently passed the halfway mark and it's difficult to put into words how fantastic our experience has been thus far despite a few difficulties in the beginning. It's been wonderful to talk to the students and watch as they gain more confidence while speaking English and interacting with us.
There have been many memorable times so far spent with the students and staff. The Khmer New Year celebrations have been a highlight. During the month-long celebration, we played numerous traditional games including lots of running, and danced every day. We're quickly becoming fans of Khmer music. We were able to engage with and have fun with both students and staff. There was nonstop joy and laughter. We all wore traditional Khmer dress for the day which contributed to our discovery of the various traditions and cultural aspects of this celebration. One of our favourite moments was when we danced and sprayed water at each other with hoses, as playing with water is an important part of New Year celebrations here. These moments will live with us forever.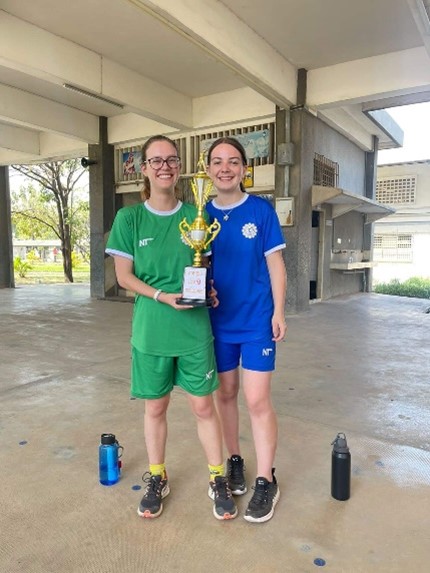 The Don Bosco Feast Day which was held in January was yet another extremely memorable occasion. This was a four-day celebration where we remembered the founder of the Salesian community, watched the students play football matches and other games, and ate traditional Khmer food. It was an exciting atmosphere as the students claimed the football championship. The following day we had mass and got assigned our team colours – green and blue respectively and joined the students in a quiz about the life of Don Bosco. Over the course of the 4 days, the colour teams competed in various events culminating in the distribution of trophies. It was lovely to learn more about the Salesian community and the important values Don Bosco represents.
One piece of advice we can share is that the best days are the ones you don't expect. We can't wait to see what the next few months looks like and hope to continue sharing these special moments with our students.
Go Back