Blog Article: A Glimpse into Central American travel
Maisie and Sarah are two volunteers currently living in La Union, Honduras. Here is a little blog they wrote about some of their Christmas travels.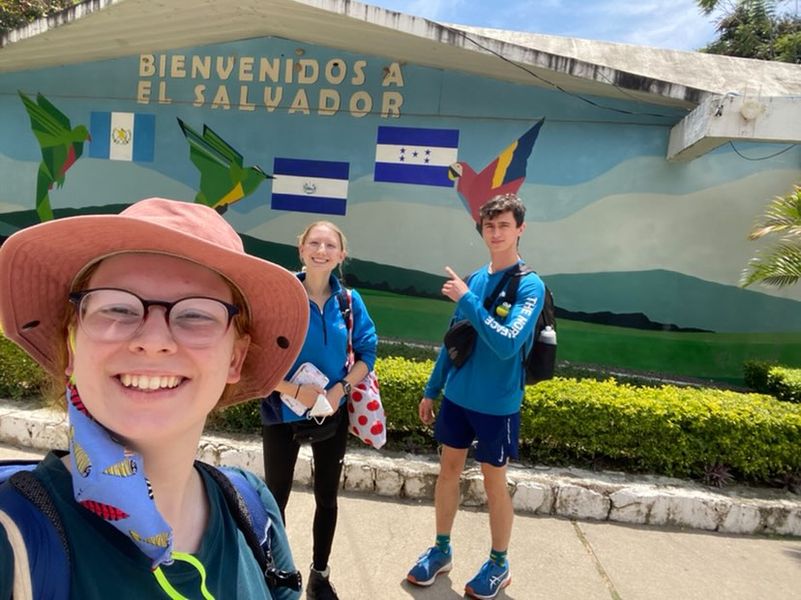 I'll be talking about two holidays, filled with many similarities and differences, both very special to us. They have truly showed us just how varied and rich Central America is, and how lucky we are to be able to explore it.

Now let me take you back to October, where we discovered the underrated and raw beauty of El Salvador for ourselves…
(5/10/22) Backpacks bursting at the seams, we headed to Gracias, the nearest town to our little mountain Project in La Unión and here we picked up our friend and fellow volunteer, Sam. Retired US school buses are the main method of public transportation here. Despite being old enough to be someone's grandpa, they've proven sturdier than UK buses, crossing rivers and mountains (albeit with a sharp intake of breath from all those aboard when the river looks a little wild…) Personal space and comfort are limited, but for only £15 to travel 283km it's an easy trade off. 12 hours of travel later we'd arrived at Santa Ana, the second biggest city in El Salvador, situated in the North-West of the country.
We almost regretted our chosen destination the first day of travel, as our 12th hour onboard old US school busses dawned, and we knew most of our fellow Honduras volunteers had rented a comfy bus and were probably nearing the beach and a glass of something bright pink, cold, and sparkly. When we arrived in Santa Ana, which looked a little run down at night, our hopes were not heightened. However! It all took a turn for the better when we found our hostel. Our hostel owner (Luis) was absolutely delightful. He gave us a run down of the best things Santa Ana had to offer, from restaurants to nearby attractions. He even pinned locations on Google Maps for us so we'd know when to get off the bus – a big help, as bus stops can be rare in Central America. We truly felt part of his family, what with the home cooked breakfast, coffee or hot chocolate, and crate of rambutans, all for under £40 per person for the three nights.
The next day (6/10/22) we sought out the pride and joy of Santa Ana – their cathedral! We'd caught a glimpse of it the night before in the dark, but in daylight the spooky Addams family feel had lifted, and it was truly a sight to behold; not only for its grandeur but its uniqueness – apparently it is Latin America's only gothic building!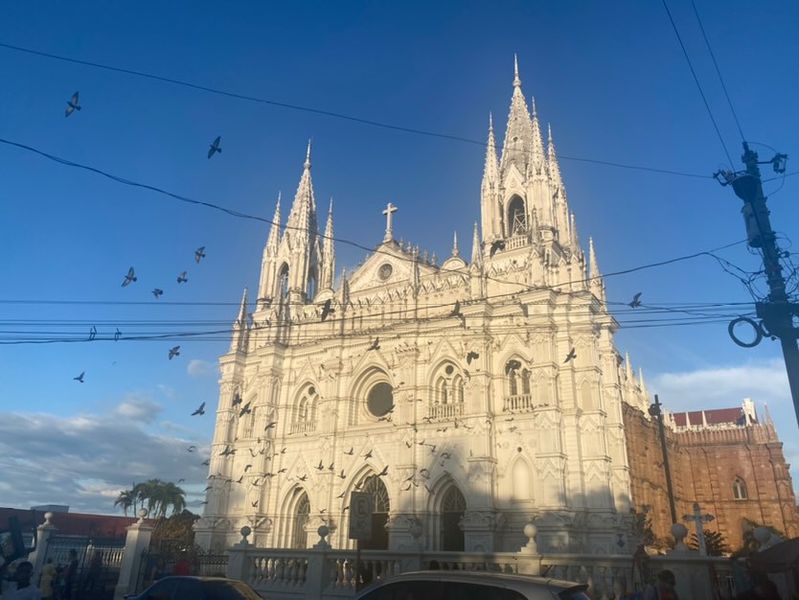 That day we also visited two Mayan ruin sites with wonderful museums attached (we've missed museums lots) and tried yucca con chicharrón, an El Salvadorian specialty. The yucca (a potato-like vegetable) is boiled, mashed, and topped with cabbage, pork (chicharrón) and a spicy tomato sauce. I ordered mine 'sin carne' and got the usual blank stare – vegetarianism is not common here, although the people have been interested to know more when they find out I have survived without meat for about 5 years. I've found vegetarian options (even if they aren't intentionally vegetarian) have been reasonably accessible everywhere we've travelled.
After a great nights sleep we set out the next day (7/10/22) to climb Volcan Santa Ana! I was dreading the climb a little and had packed my inhaler for the first time in a while. Luckily the hike was pleasant and only took a few hours. We were buffeted by the winds at the top, a relief for our sweaty faces but not so much for Sarah's anxiety – she was worried I'd be blown into the sulfur lake at the bottom of the crater…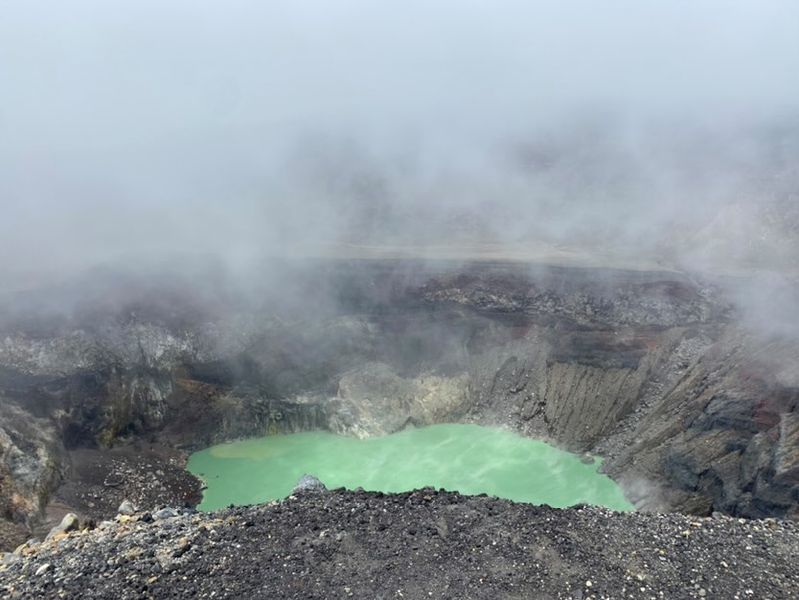 We met some lovely people from all corners of the world and were so immersed in conversation that we missed the early bus back to Santa Ana. One of them was also Dutch and volunteering in Honduras, just one example of how many unexpected, yet welcome, surprises you encounter during your travels.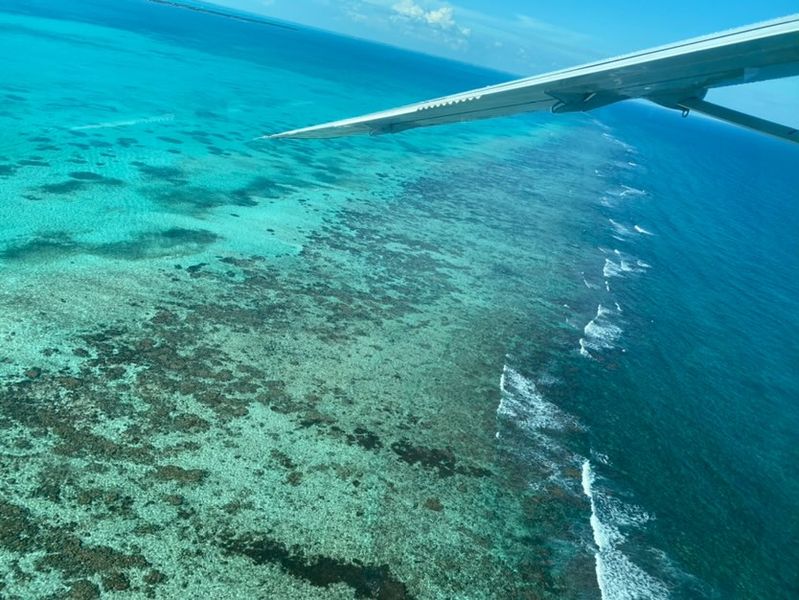 (8/10/22)
Time to return home! Following advice from Luis, we travelled back through Guatemala and shaved about 2 hours off the trip at a marginally higher cost. We were happy to arrive back in Gracias, and even more relieved when we finally made it to La Unión the next day and collapsed straight into our hammock.
For our third holiday (Christmas and New Year) we decided to visit my grandparents, who live in Belize. Belize is above Honduras, so this is the first time we would be traveling up North. Our journey was full of ups and downs – the first leg went as smoothly as Honduran roads permit, and we arrived safely in the beach town of Omoa. After a day and two nights in the beach town Omoa, one of which I spent on the bathroom floor with a horrible stomach bug, we were on our way to Puerto Cortez again, where the ferry terminal is. This is where the fun began! (After the 100th wave of my queasiness passed…)
The sight of my grandparents waving at us from the Hokey Pokey dock in Placencia was a big relief, and we felt like our Christmas holidays had truly begun. In contrast to our lifestyle in Honduras, the next few weeks were spent in the luxury of air-conditioning and a fridge filled with smoked salmon (for Sarah), tofu, and Ben and Jerry's. While we don't miss much when we're actually in our project, it's still nice to experience a little UK 'normalcy' once in a while.
During week one we flew to Caye Caulker and spent a whirlwind few days snorkelling with sharks, turtles and sting rays, and sunbathing. Before we knew it, Christmas was upon us. Not quite the UK festive weather we are used to given the humidity and heat, but we made it our own and even baked some mince pies from scratch.
Week two was spent reading, recharging and just enjoying time around my grandparents and their friends. Week three brought another adventure, in the form of Lake Bacalar in Mexico. We enjoyed a picnic that included vegan cheese (something I had mentally given up for my year in Honduras) and Sarah and I spent about two hours in the lake, chatting and trying to walk from one side of a rope strung just over the water to the other.
Our time in Belize was jam-packed with various adventures, and while it was hard to wave goodbye on the ferry home, we do consider La Unión our home in the fullest sense of the word. Once more, the hammock eased our aching shoulders and we looked ahead to the start of the school year and the adventures that 2023 will bring.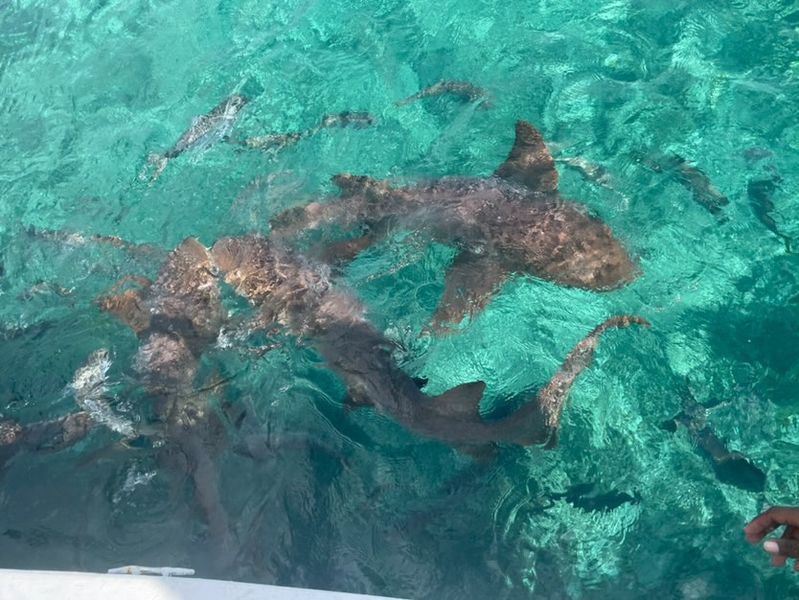 I feel so incredibly privileged to have been able to travel to both El Salvador and Belize, and have learned and seen so much through both experiences. Most of all, however, I'm so grateful to be able to walk into school everyday to help my children learn new things, and to learn new things from them. I'm so grateful to be spending this year with my amazing project partner (Sarah) by my side, and even through power cuts, various minor illnesses, and culture/ language barriers we always find a way to laugh about something at the end of it all. Every day is such an adventure, and sometimes I wish I could just stay tucked away in rural Honduras forever.

-Maisie and Sarah, La Unión volunteers (22/23)
Go Back