News Story: Spotlight – Charlotte Springham
Hi everyone!
My name is Charlotte and I volunteered in Honduras 2017/18 in a small village called Yamaranguila, nestled in the western mountains of the country. I worked in a Bilingual School, mainly as an assistant in Second Grade, though we often helped in any class that needed an extra hand. Giselle, my project partner, and I also set up English classes for children in the village who were not in our school twice a week for two hours. They were such a highlight of the week for me, involving songs, dances, and charades – all whilst 'learning English'.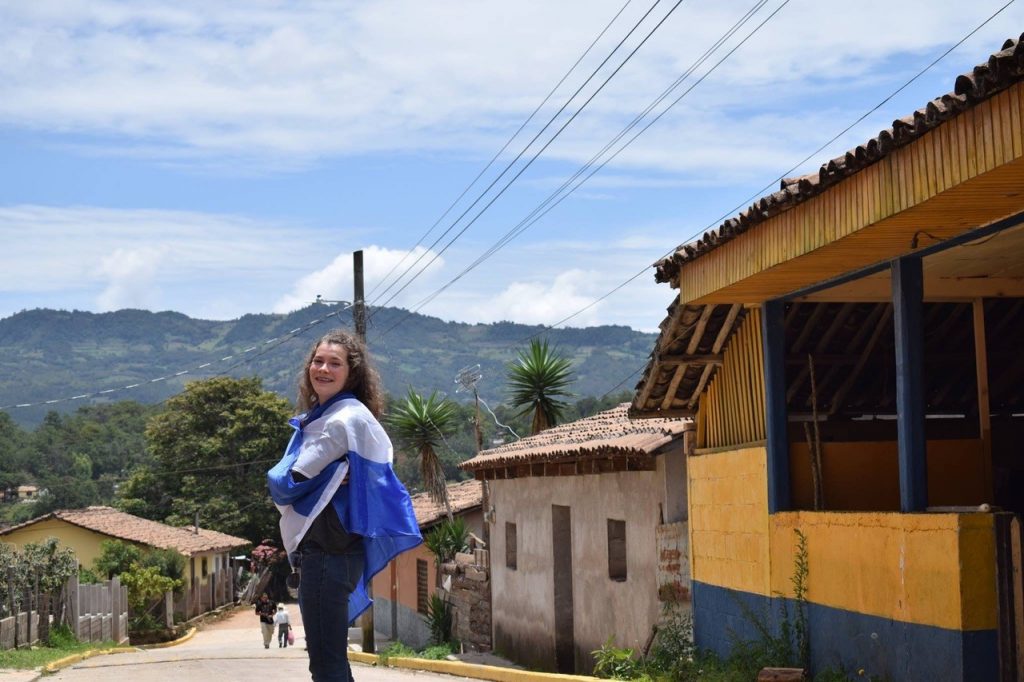 When I think of Honduras, I think of sharing meals around a fire with our neighbours, of pine tree forests and morning coffees enjoyed on our roof. I think of the seasons we lived through – rainy, dry and mango (the latter being my favourite!). Alongside these memories there is a tree-lined school, filled with the shouts of children playing and laughs as my attempts at drawing on the board.
Firstly, I am grateful for all the incredible experiences I had whilst in Honduras. I was placed in such a beautiful part of the country, with the most caring (albeit direct) people I have ever met, and I had a group of children I adored working with, who really made me 'Miss Charlotte'. I was lucky enough to have Giselle alongside me for the ride and we went from complete strangers to forming a bonder closer to sisters. I could write another few pages about all the lessons I learnt whilst on placement, like a slower pace of living, gratitude for the small things and the countless lessons my kids taught me (far more than I feel I could have ever taught them).
However, I can never underestimate the impact of my year with Project Trust has had on the rest of my life. I know we look back fondly on our years as such precious, stand-alone experiences but I can honestly say (and I am sure I'm not alone in this) that mine has completely altered the course of my life. I was steered away from law and found my passion in international development. This resulted in my final year dissertation where I discussed the right to development of Indigenous women in Latin America. This is a topic I would have never known about, let alone been interested in, without Honduras.
I am especially grateful for all the experiences my time in Honduras has allowed me to go on to have. At university I missed teaching so began volunteering in the Refugee Project, teaching English to refugees and asylum seekers in my local area once a week. I would have never had this experience without Honduras as I did not even know I was capable of teaching before my year! In my final year I went on to direct this initiative both locally and nationally and we spread the Refugee Project to numerous UK universities, of which I am incredibly proud. My work in the project truly is the main thing I took away from my university experience.
I now work in Project Trust, and it is a joy to spread this amazing opportunity to other future volunteers, knowing that it will go on to change their lives as it has mine.
Go Back