News Story: Senegal Stories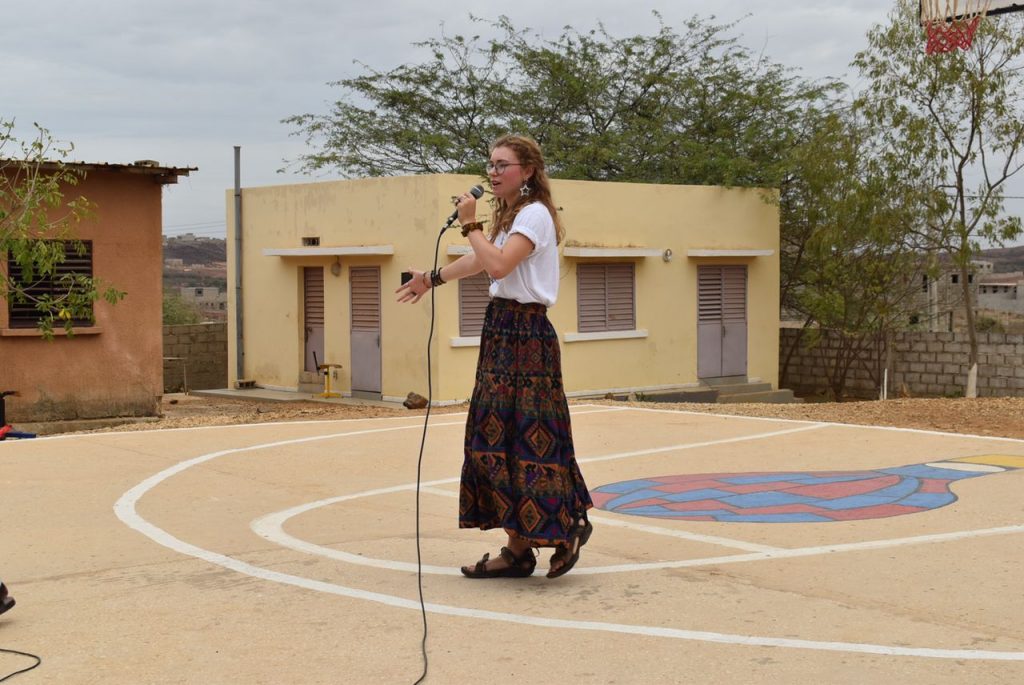 Current Senegal Volunteer Stephanie Wells kindly shares with us her experience of her PT placement thus far;
"The opportunity to teach English locally and work alongside a rural community in Senegal has been valuable beyond belief. I've learnt about myself, developed huge independence, refined my spoken French and discovered what it really means to serve others. Below I'd love to share a few highlights from my journey. All, I realise, have come from a realisation and cultivation of progress. You can find more on my blog senegaladventure.wordpress.com
The first memorable moment, predictably, was my very first class. I walked in with advice from the week of training PT provided, a short TEFL course of theory, a detailed lesson plan, two cylinders of chalk in hand, and a heap of anticipation. I felt relatively well prepared. Nothing fully equipped me for that new feeling of leading a class though. My eyes darted around the room full of pupils, voice wavered while explaining, and my hands were so shaky writing the first exercise on the board a student couldn't read it. 'Madame Sali, I not understand.' Salimata is the Muslim name I have been given here. Although nerve-wracking, I look back on this class – set on introductions and hobbies, I think – with such pride, because now – four months on – I'm leading the same group with confidence and self-belief, alongside several others too. So much rests on the students' attitude to learning, but, as the PT staff assured me back during training, a smile and some ideas to make the subject seem fun can go a long way. The students even stood up clapping at the end of a class they particularly enjoyed last week – we had made a dance together to act out the different prepositions.
Speaking of dance, each returned volunteer I'd heard from before departure told of making the project their own by bringing skills and talents to share with the establishment they were assigned to. I'm a keen performer, so another joy I've found in the school has been launching and leading a dance club. Twice a week, a group of about ten of us assemble together on the school basketball court, often tired and dreary after a day of lessons. I blast some tunes through a little speaker and we get moving. It's the best feeling, seeing the energy and positivity that's created, and occasionally we even get the basketball club members joining in. As the group's improved I've given the reigns to them more and more with choreography. Often, when split into groups, they make some lovely pieces which they perform for one another at the end of the class. Alongside commitments at the Lycée (high school) site, I've also helped out in a few P.E. classes, held on a spacious, sandy patch outside the village's small stadium, usually first thing in the morning. Although tiring, this has had similar morale-boosting effects for both parties involved.
A particularly rewarding aspect of teaching has been running 1-1 tutoring sessions, with students around school that find English particularly difficult. They fall behind for a number of reasons; often because of missed classes due to school strikes or a complicated home life, or sometimes it's a lack of self-esteem and confidence to speak up in class. Through the intense nature of these sessions – a stark contrast to teaching a room full of seventy students – I have been able to give them sessions tailored to exactly what they need to work on, as well as provide lots of verbal practice of the language – sometimes neglected in big class settings. One example is Fatou, a fifteen year old I've been working with since early January. Her written English was strong, but speaking was a challenge, and she was slow and tentative to form full sentences. We've been covering vocab and topics such as school, routines and interests, all in a verbal format. Last Wednesday she performed her full daily routine for me, announcing each part in complete, detailed sentences as she acted it out, using items around us in the library as props.
As I've got to know members of the local community, a few individuals have expressed a desire to learn some spoken English too. So much so that my repertoire of weekly students now extends to a clothes vendor I once bought a shirt from, and a young mum of seven down the street from our family home. The latter of these, named Awa, rarely gets the opportunity to leave her home except for food shopping. We've befriended each other and exchange lessons. I've loved getting to know her, through a combination of broken French and Wolof, the mother tongue, and she teaches me this with a fierce attention to pronunciation – I couldn't be more grateful. Hearing the slow but steady progress she makes each week in English gives me such a boost, and it's amazing to hear it does the same for her. After a brief session on a Sunday afternoon, where we covered a bit of Geography and vocabulary describing distance, she once said to me in French, 'You're bringing the world to me, Sali.'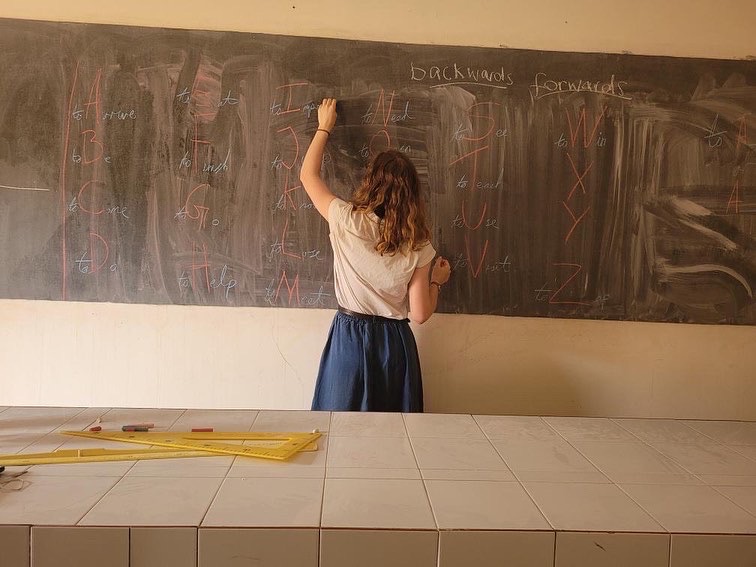 As well as building public speaking and improvisation skills, teaching has also given me a profound appreciation, in retrospect, for the teachers I've been taught by in the past. Ironically, I think the students I see on a weekly basis have unknowingly taught me far more than I've taught them, but that's the beauty of spending a year in a profoundly different environment. The challenges crop up in unexpected places but learning to navigate them has also been a form of schooling in and of itself. I've grown to understand the intricacies of the roles of Teacher and Student; the border between them is not clear cut, and lessons extend far beyond the realms of a concrete classroom. I have no doubt this unique experience with Project will encourage all of us volunteers to throw ourselves in to any educational opportunities in the future – whether they lie within or beyond the boundary of our comfort zone."
Go Back