Blog Article: Why I Volunteer – Billie Kilburn
Billie Kilburn, 18, Senegal Volunteer 22/23
When I decided to take a gap year before university, I knew that I wanted to apply to Project Trust, having been regaled with many incredible stories about my dad's year in Indonesia. My dad is a Returned Volunteer with Project Trust – Indonesia 83/84 – and speaks about it as a transformative experience for him.
And I already feel as though it is the same for me. I'm 2 months into my 12-month placement as a teacher at the Diapalante Community Centre in Kaolack. I'm learning every day: language (French and the more widely-spoken Wolof), teaching skills, local customs and the way of life. I've learnt to go with the flow (the Senegalese way of life) both with hurdles in day-to-day life, and in teaching.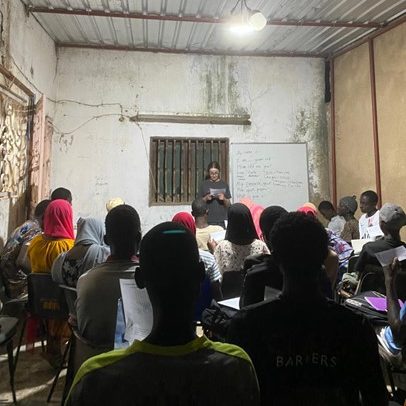 My project is a drop-in Community Centre, making it impossible to predict the size and skill level of a class. We've quickly learnt the importance of thinking on our feet to adapt our lesson plan to the class sitting in front of us, and always bringing energy – even if I'm feeling exhausted.
I have also learnt Senegalese Teranga – the welcoming and sharing spirit. We've been welcomed with wide open arms, open houses, and a lot of love (even if this often manifests itself as marriage proposals).I feel like I've been welcomed to a big family, and I have very quickly felt at home here, which I think has been the most surprising aspect of my time here so far.
I think that talking with people is the best way to make friends and learn more about Kaolack and Senegal, and is also a fantastic way to learn more Wolof. The Centre provides a great opportunity to do this, with an extended family of lovely members of all ages. Evie (my project partner) and I also cook with our host family every week, but with my lack of onion-chopping skills I think I slow down the process somewhat. I'm hoping to join the local girls' football team, too, although I'm hoping that they train after sundown…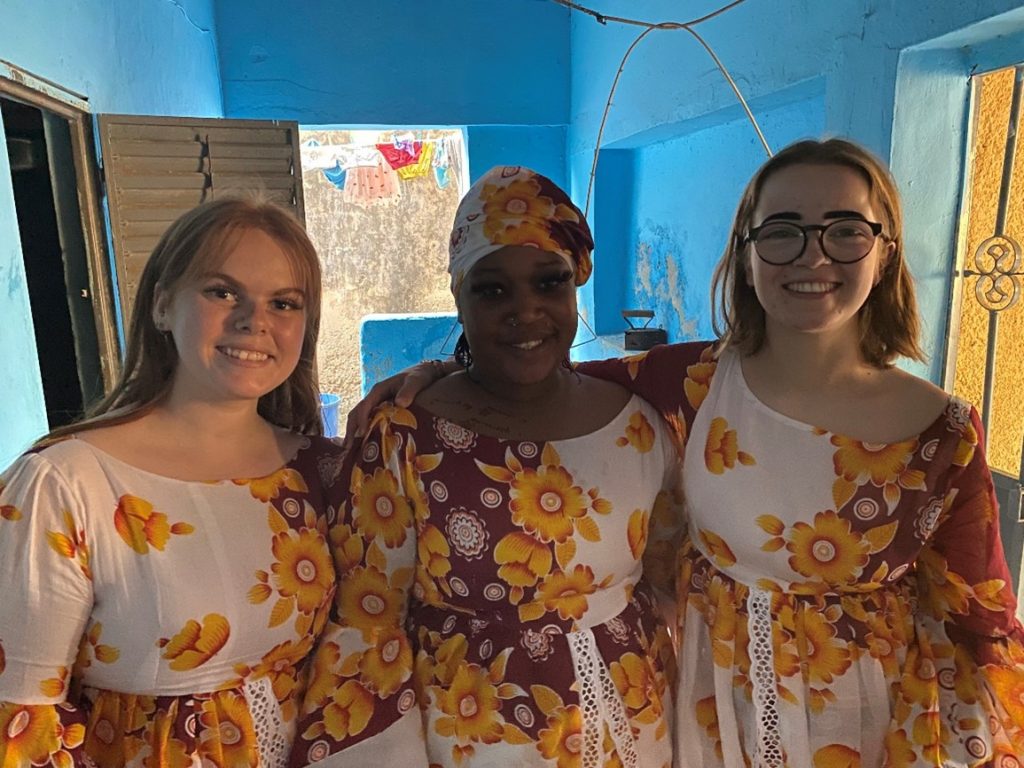 Learning some Senegalese dancing (which I have yet to master), listening to and playing music, and getting beautiful traditional clothing made are other ways in which we've begun to integrate ourselves into the community. These all come with the many ceremonies and festivals, as does getting glammed up; I ventured into Senegalese makeup for a special naming ceremony last week – I'm not sure that my eyebrows will ever recover.
Speaking with people also provides the chance to listen to people speaking about local issues, and to better understand cultural differences. I've become interested in the role of women in Senegalese society, and the way the environment is considered. One of our best friends, and a fellow teacher at our Centre, is involved in an environmental organisation, so speaking with him has given me some interesting insights into Senegalese attitudes. As my Wolof improves, I hope to be able to have respectful conversations with locals and learn more about these issues.
Volunteering is important for many reasons, and this year is a unique opportunity for a mutual exchange of knowledge, love, and culture. I am here as a teacher, but I am constantly learning, and I know that this year will have a profound impact on me. I think that living in a different country, and in a very different way, will broaden my mind and will make me more considerate, open and aware. I feel that this will affect how I use my voice and privilege in the future, and probably my career choices too.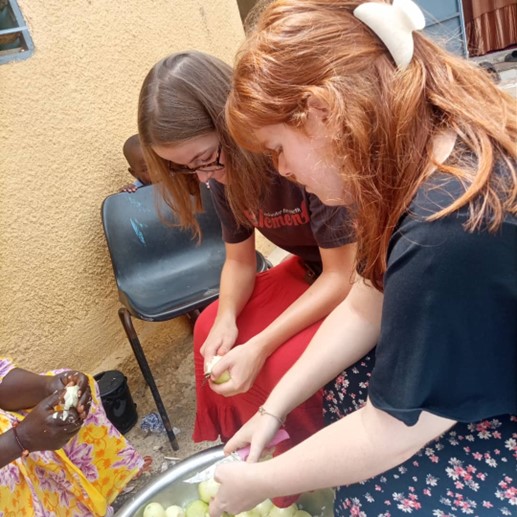 This placement with Project Trust is also a chance to contribute to the world, albeit a small contribution, and to use my privileges in a constructive way.
And this year is a chance to develop many of my own skills, such as confidence, perseverance, and communication (all three are regularly tested).
Living in Senegal is also a great opportunity to practice my French before next year, when I'll be going to university to study Arabic and French. After that, I'd love to do charitable work (or maybe teaching – but we'll see how I feel at the end of the year) in the Arabic/Francophone world. In the short term, I think that I'll return to England as a more broad-minded university student, with a lot of gratitude and respect. I'm sure that this year will have a strong influence on the decisions I make further down the line, but I'm not yet sure exactly what form that will take, aside from the obvious: a holiday to Senegal every year.
I'm feeling very grateful to have the opportunity to work here for the next year, and I'm so excited for what's to come. I know that I will continue learning every day, and I hope to return to England with a comprehensive Thieboudienne recipe, a lot of stories and pictures, and some beautiful Senegalese boubous (traditional outfits) in my bag.
Go Back